Move On When Ready (MOWR)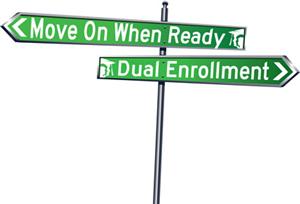 What is the Move On When Ready program?

Move On When Ready (MOWR) is Georgia's new dual enrollment program that allows high school students to earn college credit while working on their high school diploma. The new law streamlines the existing dual enrollment options (Move On When Ready, Accel and HOPE Grant) into one program with one funding source. By consolidating the existing programs into a single program, it will be easier for students and parents to navigate and take advantage of the available options to enroll in college courses while still in high school. The new MOWR program includes provisions to help remove some of the financial barriers that may prevent students from participating in a dual enrollment program.
High schools are to provide MOWR program information to each 8th grade public school student at the time the student is developing his or her individual graduation plan as required by O.C.G.A. 20-2-327.
The new MOWR program is administered by the Georgia Student Finance Commission (GSFC).
References available on GAcollege411.org: FY 2016 Move On When Ready Program Regulations, Move On When Ready Web page, MOWR FAQs for Students/Parents, and Dual Enrollment Comparison Chart.